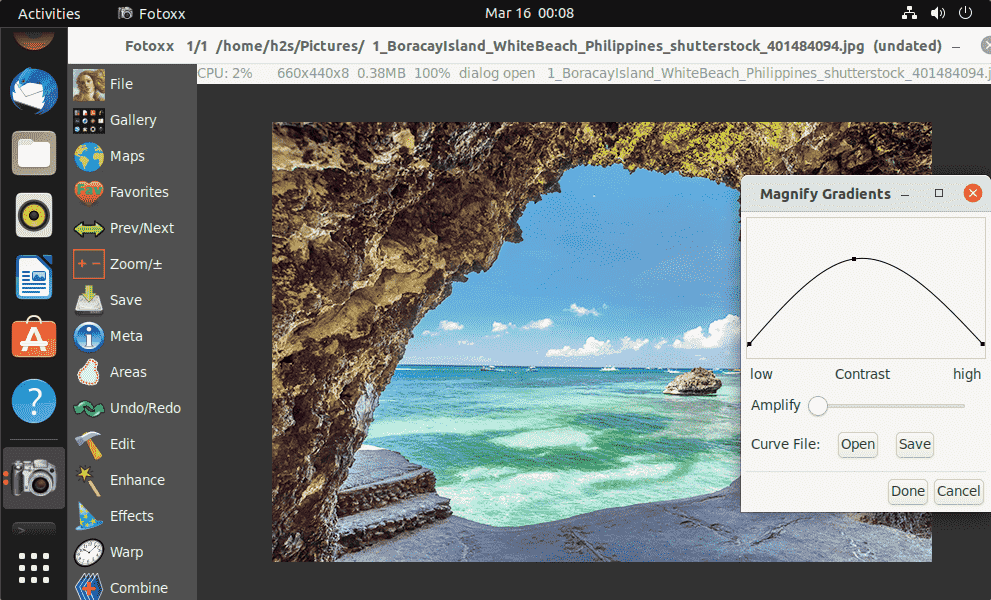 Learn the commands to install Fotoxx on Ubuntu 22.04 Jammy JellyFish or 20.04 Focal Fossa. The software is an image management and image editing program that focuses on the simple and fast operation. Beginners, in particular, should be offered a tool to make working with digital images under Linux much easier.
In contrast to programs like Shotwell, no internal database is used, but the existing folder structure on the data medium, as with gThumb or Geeqie. However, it should be noted that an internal index is created when the program is started for the first time so that metadata can be found more quickly. As long as this indexing is running, images can be viewed but not edited. Whether the program lives up to its reputation "for people who find F-Spot too limited but GIMP too complicated" is something you should try for yourself.
Basic features:
• Image preview (thumbnails) with adjustable size
• Full-screen slide show with keyboard navigation
• View and edit metadata (Exif, IPTC, etc.)
• Create your tags (rating, image description)
• Search by metadata, tags, rating, date, description, filenames
• Batch functions: rename, shrink, export, tags, RAW import
• Histogram
• Sending pictures by email
• Creating CDs or DVDs
• Printout in various standard formats (custom sizes also possible)
• Flexible image editing with unlimited undo/redo steps and fast before/after preview
• Geocoding of the recording location

Contents
Use the default system APT package manager and run the system update command to rebuild the APT cache and install the latest package updates available for the system.

To install Fotoxx Image editor software on Ubuntu Linux, we don't need to add any third-party repository. The packages to install this application are already present in the default system repository of Ubuntu Linux. Hence, just run the APT package manager command given below:

Once the installation is completed, close the command terminal and go to Application Launcher. There search for Fotoxx, as its icon appears, click to run the same.



To update the installed Fotoxx app we just need to run the system update command because we have installed it using the APT package manager.

If you want to remove the Fotoxx then we can go for the same command used to install it, however with the "remove" parameter.

Other Articles:
• 5 Best free PDF editors for Ubuntu Linux 
• How to Upgrade Debian 10 Buster to 11 Bullseye Linux
• How to install Telegram on Ubuntu 22.04 | 20.04 
• How to Install VidCutter on Ubuntu 22.04 | 20.04


Heyan Maurya Ubuntu
13237 Views
Heyan Maurya Ubuntu
30743 Views
Heyan Maurya Ubuntu
7704 Views
Heyan Maurya Ubuntu


document.getElementById( "ak_js_1" ).setAttribute( "value", ( new Date() ).getTime() );
This site uses Akismet to reduce spam. Learn how your comment data is processed.
Linux Shout crafted as a part of our main portal H2S Media to publish Linux related tutorials and open source Software.