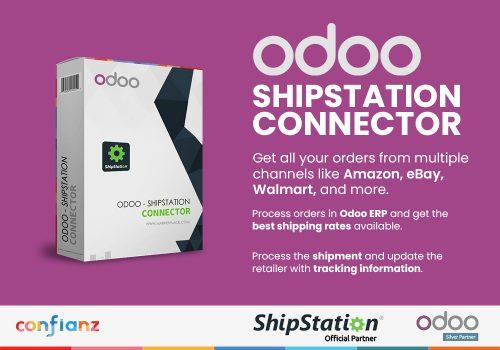 Announced that it has launched their Odoo-ShipStation Connector with advanced features.
Charlotte, North Carolina, USA , Oct. 14, 2021 (GLOBE NEWSWIRE) —
Confianz Global, Inc. North Carolina's multi-award-winning ERP implementation company, announced that it has launched their Odoo-ShipStation Connector with advanced features. You can learn more about the Odoo-ShipStation Connector here.
Confianz Global Inc. builds end-to-end integrated solutions for a complete automation experience that promotes business growth for individual startups and small and medium-sized businesses (SMBs). The ERP company has been extending customized software solutions to its clients since 2008.
Confianz Global Inc's solutions use open-source technologies and cover multiple domains, including enterprise resource planning (ERP) systems, custom web application development, custom app development for Android and iOS platforms, custom blockchain application development, as well as artificial intelligence integration.
Speaking about the Odoo-ShipStation connector, Anoop Menon, the company's CEO, said, "This is an important milestone for Confianz Global to introduce this Odoo-ShipStation Connector. We built the connector back in October 2020 and had a selected group of our customers use it in the real world to further improve it. We are partners with both Odoo and ShipStation which makes it easier for us to further improve and maintain this connector when there are API changes or new versions of software releases on either end."
Odoo (previously OpenERP) is one of the fastest-growing open-source ERP systems that is used by millions across the globe. It is a fully powered suite of business applications that lets you run your entire business using one operating system. The kind of growth Odoo has achieved in the last 16 years is impeccable. Confianz Global has been implementing and customizing Odoo ERP for the last 11 years.
ShipStation is an advanced shipping platform available to businesses that allows them to manage all their small parcel and LTL shipping needs in one place.
Typically, the business customer imports their orders from an online selling channel like Amazon, eBay, or other sources, sets the carrier and shipping service for the shipment, gets postage rates, and prints the labels. ShipStation notifies the selling channel and your customer of the shipment and provides tools to track shipments and manage returns.
ShipStation also provides tools to manage your shipping workflow, track your processes to eliminate confusion and mistakes, and use powerful automation to minimize how much manual work you actually have to do.
"The biggest risk for any business spending money on third-party connectors is how long it will work. We close this gap by partnering with both ends so that we can stay on top of the game if there are upcoming API changes making the connection fail. In many cases, online retailers are penalized if the order is not confirmed by a specific time and we have features in place to automate such processes, reducing headaches for the business owner. We also have integration available to extend this Odoo-ShipStation Connector to work with CommerceHub used by Lowe's and HomeDepot" explained Menon.
About Confianz Global Inc.
Confianz Global Inc. delivers fully integrated software services to meet the unique needs of individual startups, small, and medium-sized businesses. They have grown exponentially alongside the fast-paced IT industry over the last 13 years. As a global enterprise with an established presence in the USA and India, Confianz Global Inc. provides quality software services to clients in nearly 50 countries around the world.
The company's solutions cover multiple domains, including ERP systems, custom web application development, custom app development for Android/iOS platforms, custom blockchain application development, and artificial intelligence. They build end-to-end integrated solutions for a complete automation experience that promotes business growth.
For more information, visit https://www.confianzit.com/
Website: https://www.confianzit.com/
Video URL: https://www.youtube.com/watch?v=yHywBkQUQHQ
Stop sinking your money in mediocre businesses. Buy the best instead.
As it turns out, during so-called Federal Reserve interest rate-hike cycles, which we seem set to enter as early as March, the U.S. stock market tends to perform strongly, not poorly.
In conjunction with the investment, Ford announced plans to build an electric vehicle (EV) based on Rivian's vehicle platform. As a financial investment, the Rivian stake has generated a huge windfall for Ford. With Rivian stock trading at an extraordinarily high valuation for a glorified start-up — even after a sharp pullback from its November peak — Ford should look to sell its Rivian shares in 2022.
Inflation is at 40-year highs. These stocks can help ease the pain.
The metaverse seems to be the latest investing megatrend that's caught the attention of investors and the news media. Before you discount this as just another passing fad, ARK Invest founder and respected technology pundit, Cathie Wood, told CNBC in December that the metaverse could be a "multi-trillion dollar opportunity" and that it will impact "every sector in ways that we cannot even imagine right now." For savvy tech investors, this sounds like an opportunity that could be too good to pass up.
Big pharmaceutical companies usually make big bucks. Here's why they chose AbbVie (NYSE: ABBV), Gilead Sciences (NASDAQ: GILD), and Pfizer (NYSE: PFE). Keith Speights (AbbVie): There's so much to like about AbbVie's dividend that it's hard to know where to begin.
The picks aren't the familiar Verizon or AT&T; watch comms infrastructure instead.
The automotive sector is in the midst of an enormous change. A combination of social and political forces are pushing the industry more and more toward adoption of electric vehicles (EVs) as a new standard – although the internal combustion engine is not likely to be fully phased out, EVs are certain to find a large niche. 'Last mile' delivery, and various fleet businesses are already finding that EVs can meet their needs efficiently. But the electric car market isn't just about cars. They may g
The stock market rally is on the back foot, while the Nasdaq has lagged the S&P 500 for nearly a year. But Apple is holding up.
The oil market hasn't always been kind to dividend investors. The sector has often had to slash or suspend dividend payments during oil price downturns, which have happened twice this decade. Instead of setting a high base payout, some are setting lower quarterly payments and supplementing with variable or special dividends when oil prices are higher.
Take a look at this list of stock market holidays in 2022 to find out whether the market will be open on days like Columbus Day, Black Friday, Christmas Eve and more.
The board of Citigroup Inc. ( NYSE:C ) has announced that it will pay a dividend on the 25th of February, with…
Despite lagging the market in the past year, these two tech companies boast historical returns any company would be proud of.
JPMorgan Chase & Co. (NYSE: JPM) kicked off the first earnings round in 2022 with the largest single-day decline in almost 2 years. While the bank sees the boost to the net interest income, a hike in the adjusted noninterest expenses of almost 10% has undoubtedly spooked the market.
Superstar investor Cathie Wood is known for her winning stock picks. I'm talking about companies you can count on for performance over the long term. Wood's biggest funds have delivered gains of 180% or more over the past five years.
It's now clear that the first part of January has exhibited a marked change and reversal in pattern.
(Bloomberg) — Venezuela broke a four-year bout of hyperinflation, one of the longest in the world, as the socialist government slowed the pace of printing money and the U.S. dollar became the preferred currency in the country. Most Read from BloombergDjokovic Departs Australia After Losing a Shot at Tennis HistoryOne of the World's Wealthiest Oil Exporters Is Becoming UnlivableDirecTV to Drop One America News in Blow to Conservative ChannelPutin's Troops Wouldn't Get Cheers in This Once Pro-Rus
The IBM spinoff is unattractive and unloved, but extremely cheap
If you're looking to invest in e-commerce, these three stocks could be underappreciated investments.
Take-Two Interactive's (NASDAQ: TTWO) move to acquire leading mobile game developer Zynga (NASDAQ: ZNGA) for $12.7 billion didn't receive a round of applause. Investors were probably wondering why the company needed to make such a large deal, especially in the hit-and-miss mobile game market. On the surface, this acquisition is a strategic move by Take-Two to significantly accelerate and scale up its T2 mobile games business.