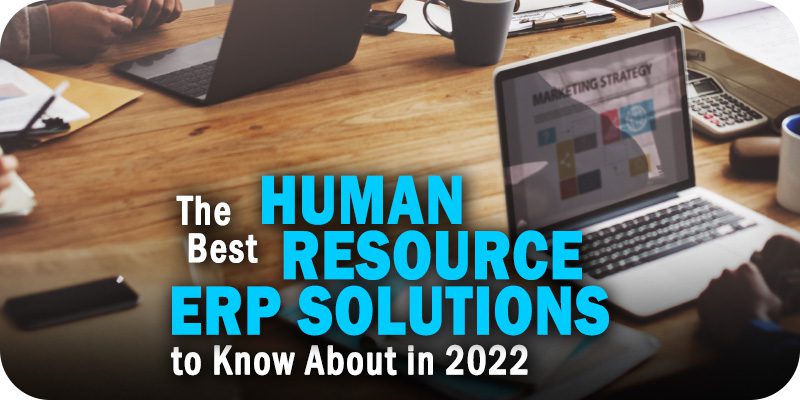 The editors at Solutions Review have compiled this list of the best human resource ERP solutions and vendors for companies to consider working with.
As the Enterprise Resource Planning (ERP) software marketplace continues to grow and evolve, the process for evaluating and selecting a solution for your company has grown along with. With so many different solutions for different industries, company sizes, and use cases, it can be challenging to narrow a search down to only the providers who offer software with the specific qualifications a company needs.
There is plenty of crossover with ERP and human resource solutions, like human resource management software (HRMS) and human capital management (HCM) solutions. If your company is looking for an enterprise management platform outfitted with HR-specific capabilities, the vendors below are a good place to start.
The Solutions Review editors selected the human resource ERP providers below based on each solution's Authority Score, a meta-analysis of user sentiment through the web's most trusted business software review sites, and our proprietary five-point inclusion criteria. Companies are listed in alphabetical order.


Description: ADP provides small and mid-sized businesses with a suite of cloud-based HR management software solutions that encompass essential functions like payroll, workforce management, talent, benefits, HR, and more. Companies can use ADP to track hours worked, manage time-off requests, integrate with payroll tools, and manage other administrative and human resource-centric benefits.

Learn more about leading ERP products with Solutions Review's
Free ERP Buyer's Guide.

Description: Ceridian is a global software provider of human capital management (HCM) and payroll software platforms. Dayforce, its flagship cloud-based HCM solution, equips users with workforce management, HR, payroll, and talent management functionalities. The solution is designed to help companies across industries optimize how they manage every stage of the employee lifecycle. Ceridian also provides a payroll-specific management solution, titled PowerPay, which is catered to the needs of smaller companies.


Learn more about leading ERP products with Solutions Review's

Free ERP Buyer's Guide.

Description: Deltek
 offers a collection of 
ERP
, business development, professional services automation (PSA), project management, human capital management, information management, and small business software solutions. The company's Core HR solution is designed to equip its users with all the tools needed to manage employee information, maintain records, onboard new team members, and more. Companies can automate manual HR processes and improve data integrity with its single, integrated solution. 
Learn more about leading ERP products with Solutions Review's
Free ERP Buyer's Guide.
Description: Epicor Software Corporation provides industry-specific business software designed around the needs of manufacturing, distribution, retail, and services organizations. The company offers unique solutions for business processes and operational requirements available in the cloud or on-premises. Epicor's HR solutions are designed to integrate with their other industry-specific platforms. They include the tools necessary for automating processes, improving data visibility, maximizing productivity, and improving the recruitment, training, and employee management processes.
Learn more about leading ERP products with Solutions Review's
Free ERP Buyer's Guide.
Description: 
Exact provides start-ups, small companies, accountants, manufacturing companies, wholesalers, and service providers with a suite of financial and business software solutions that can be deployed in the cloud or on-premises. With its HRM solution, companies can streamline the human resource cycle and improve everything from posting a job opening to managing workforce performance and beyond. Features include HR dashboards, document management, forms, workflows, reports, social collaboration tools, employee self-service, integrated accounting tools, manager self-service, and more.
Learn more about leading ERP products with Solutions Review's
Free ERP Buyer's Guide.
Description: 
IFS develops and delivers ERP software for customers worldwide who manufacture and distribute goods, maintain assets, and manage service-focused operations. IFS's products are user-friendly, flexible, and modular in design. IFS' Human Capital Management solution, included in the IFS ERP product suite, companies can manage their workforce with tools for time and expense allocation, data management, strategic planning, talent development, performance management, and more.
Learn more about leading ERP products with Solutions Review's
Free ERP Buyer's Guide.
Description: 
Infor is a global provider of cloud-based software solutions built to give users everything they need to run day-to-day operations and grow their business for the long term. Its HR solution suite offers a set of cloud-based HCM software designed to empower users to streamline processes, workflows, and systems. Features include global HR tools, payroll management, benefits management, case management, and more. Infor also offers products created explicitly for Talent Management and Workforce Management (WFM) use cases.
Learn more about leading ERP products with Solutions Review's
Free ERP Buyer's Guide.
Description: Odoo provides companies with a suite of open-source business management applications for CRM, e-commerce, inventory management, point-of-sale, accounting, project management, human resources, and more. With various pricing points for different needs, Odoo is an accessible option for growing companies looking for a solution that can scale alongside them. Odoo offers multiple HR-specific applications for employee management, recruitment, referrals, fleet management, appraisals, and time-off management.

Description: Oracle is a cloud technology company providing organizations worldwide with various computing infrastructure and software products designed to help them innovate their business, unlock new efficiencies, and improve efficiency. The Oracle Fusion Cloud Human Capital Management solution is natively built for the cloud and can provide companies with a consistent experience across devices. Features include tools for workforce management, payroll, human capital management analytics, talent management, recruiting, and training.



Description: Paylocity is an all-in-one software platform designed specifically for helping HR professionals improve their processes and efforts with automation, data-driven insights, workforce management, payroll tools, modern workforce solutions, and more. The company primarily works alongside companies of all sizes in healthcare, manufacturing, retail, financial, transportation, hospitality, nonprofit, education, and other industries.


Description: Sage is a technology provider offering cloud business management solutions for worldwide small and medium-sized businesses in professional services, wholesale distribution, construction, manufacturing, nonprofit, and food and beverage. With Sage HR, companies can create work-life experiences that improve employee engagement, retention, and training. It includes a suite of HR features for leave management, expenses, performance management, shift scheduling, timesheets, and recruitment.
Description: 
SAP provides a wide variety of solutions that primarily serve medium and large-sized businesses and is a good choice for widespread and complex organizations that need to control many different facets of their business. As part of its Human Capital Management solution suite, SAP offers Core HR, payroll, employee experience management, HR analytics, workforce planning, and talent management products to help companies streamline services and improve overall processes.
Description: Unit4 provides next-generation enterprise solutions for people-centric, mid-market organizations worldwide. The company's Human Capital Management software can help companies optimize their people-centric processes, improve payroll accuracy, boost productivity, and maximize talent growth. It also comes equipped with Core HR, talent management, reporting, automation, and other features.
Unit4 works with higher education, nonprofit, professional service, architecture, IT, and public sector industries.
Description: Workday equips its clients with a cloud-based ERP software geared toward medium businesses and larger enterprises in communications, life sciences, energy, insurance, hospitality, retail, nonprofit, manufacturing, and other industries. Workday's HCM software provides a collection of tools for managing a workforce, including workforce management, payroll, employee experience, analytics, reporting, workforce planning, talent management, and more.